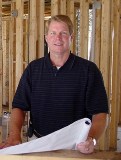 Many people are realizing the benefits of buying a new home over a short sale or a foreclosure. So we decided to reach out to one of our many builder friends – Mark Downing with CornerStone Homes – to find out the top 3 questions he is getting about new houses in Jacksonville, FL today. Here are the top 3 buyer questions along with Mark's answers:
¬
1. How much does it cost to build per square foot?
¬
There are many variables to the per square foot cost, but we generally start at $60 per foot. However, it does vary by plan, county and the personal choices you make for your finishes.
¬
2. What incentives do you offer?
¬
Unlike a national builder, we don't have one program for every buyer. We work with our buyers to tailor a program that fits your needs.  That may include a closing cost contribution, a price reduction or a design center option.
¬
3. How long does it take to build a home?
¬
After we get the permit, we can build your home in 90 to 120 days – depending on size. However, it often takes 60 – 100 days before we get a permit depending on the number of structural changes you make, a community's ARC approvals, truss and structural engineering, and which county your home is in.
¬
If you are interested in learning more about the differences between new construction and short sales or foreclosure – or if you have other questions you would like to ask a builder, please contact any Davidson agent!