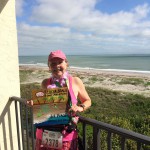 Have you heard of runner's high?  It is a euphoria, which kicks in right after you cross the threshold of pain and suddenly, and unexpectedly…just when you think you are going to drop from lack of oxygen, you feel on top of the world.  Judy Hagen-Kashou is no stranger to this high.  She is an amazing example of fortitude at the age of 70.
 Judy started with Davidson Realty in July of 2007 as a real estate agent.  She retired and has since come back to help us out with the administrative side of things part-time.  Here are some interesting facts about Judy that will make you want to lace up your running shoes and hit the pavement!
1. How old was she when she started running and how did she get started?  Judy was 62 years old and was visiting her brother and sister-in-law in Milwaukee after her husband, George, passed away.  She heard about the 2nd annual Donna Deegan marathon, which is held the 2nd weekend in February every year.  She told them she was going to run in it, and she recalls, "they thought I was crazy!"  That was her first race in February of 2011.
2. Her favorite place to run? Downtown St. Augustine over the Bridge of Lions in the morning.
3. What she loves about running?  She "loves the exercise and meeting a lot of neat people and the people cheering for you as you run."
4. Her favorite race?  The San Diego Half Marathon in March each year.  She has done two of them.  The last one had 8,000 people and she said, "the only state that was not represented was West Virginia."
5. Most recent race?  Judy celebrated her 70th birthday by participating in the Cocoa Beach Half Marathon, which was her 20th race!  She placed third in her age group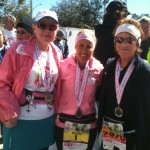 !
6. Her advice to those who wish to start running?   Join a running group.  Start out walking and build up to running.  Judy runs every Tuesday, Thursday and Saturday anywhere from 4 – 14 miles!One last little tidbit about Judy…on the sly…you might ask her next time you see her about Nancy Sinatra's song "These Boots are Made for Walking"…or dancing???
 We love Judy and we are very proud of her accomplishments and the fact that she is part of the Davidson Realty Team!