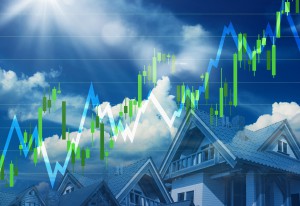 "It is the set of the sails, not the direction of the wind that determines which way we will go." Jim Rohn

The Northeast Florida Association of Realtors market stats for November continue to show positive trends increasing over 2016 in all categories. New listings of 2,556 are up 7% over last November and up 1% year to date. Pending sales of 2,242 are up 14% over November 2016 and up 5% year to date. Closed sales of 2,028 are up 0.4% over last November and 1.5% year to date.
Prices continue to rise with the median sales price of $210,350 showing a 10.5% increase year to date over 2016. The average sales price of $254,947 is up 8.6% year to date. Inventory continues to decline with 7,594 homes for sale which is down 20% and a 3.1 months supply of inventory which is down 24.4%. A balanced market is 5 to 6 months of inventory so we continue to be in a seller's market.

It is that time of year for 2018 forecasts and Marian McPherson summarized a panel discussion that included the National Association of Realtors Chief Economist, Lawrence Yun at the Annual Conference in November. "Yun expects existing-home sales will finish at a pace of 5.47 million, a 0.4 percent year-over-year increase from 2016. In 2018, he says sales should increase 3.7 percent to 5.67 million. Furthermore, the national median existing-home price is expected to rise around 5.5 percent in 2018.
When it comes to single-family housing starts, Yun expects a 9.4 percentage point growth to 950,000. Although this will help alleviate some pressure, Yun notes that it's still 250,000 shy of the 50-year average of 1.2 million starts.
Yun said strong housing starts will be the key to alleviating inventory issues and the untenable home prices that come along with it."
"The lack of inventory has pushed up home prices by 48 percent from the low point in 2011, while wage growth over the same period has been only 15 percent," said Yun.
I always value Lawrence Yun's national opinions and locally I look to Sean Snaith, a University of Central Florida economist. The latest Florida & Metro Forecast from UCF shows Florida's economy, as measured by Real Gross State Product, expanding at an average annual rate of 3.8 percent from 2017 to 2020. Real Gross State Product will expand by 3.1 percent this year and 4.3 percent in 2018 before easing to 4.2 percent in 2019 and then 3.4 percent in 2020.
Snaith said housing starts will accelerate going forward, but not fast enough to completely ease the shortage of single-family housing. Total housing starts are expected to be 117,161 in 2017, 147,638 in 2018, 154,633 in 2019 and 165,312 in 2020.
Based on this year and the predictions of where we are going, I am setting my sails for huge success in 2018. I wish you a Merry Christmas and a very prosperous New Year!