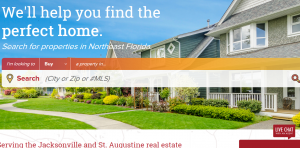 We know searching online for a property can be a challenge when you're looking for a home with specific features or in a particular community. That's why the new DavidsonRealtyInc.com features a search function that helps you find precisely what you want for your next home!
Among other improvements throughout the site, Davidson Realty has added more search filters to make this possible. Visitors can now search by:

• The view they want, such as waterfront, ocean view, or golf course view
• Lot positioning including corner lot or cul-de-sac
• Home features like a fireplace or swimming pool
• HOA/CDD fee opt-out for those who prefer to forego communities with fees
• Local community preference, anywhere from Palm Coast to Hastings
• Map view of the search results
In addition to these features, you can now visit local communities under "Our Area" and see properties available in each. Just click on the area to learn about the community and see all the homes available there!
"With a home being such a major investment, we understand buyers want what they want," said Sherry Davidson, President of Davidson Realty. "We wanted to make the search as intuitive as possible so they can find exactly what they're looking for."
Check out the new features and let DavidsonRealtyInc.com search out your dream home today!