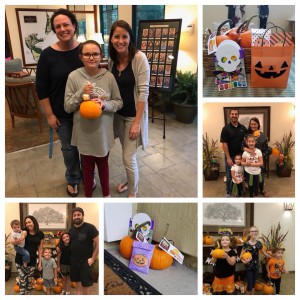 For the second year, Davidson Realty has celebrated the season with an autumn-time staple: pumpkins! The 2nd Annual Pumpkin Party in late October gave agents an opportunity to connect with past and current customers and business partners by inviting them to the Davidson offices for some fall-themed fun.
Attendees enjoyed participating in crafts, watching It's the Great Pumpkin, Charlie Brown movie, treats like popcorn and sweets, and of course, pumpkins, which the agents gave out in gratitude. For customers and partners who couldn't make it, agents surprised them with a "pumpkin pop-by."
"Buying a home is a huge life event and I typically get to know my customers very well," said Davidson agent Erin Mount, who gave out 25 pumpkins. "I feel grateful people choose to work with me and events like this are a just a little token of my appreciation."

In total, more than 200 pumpkins were gifted to customers and business partners by 10 Davidson agents. Candy Gil provided a pumpkin to her favorite gate guard at The Cascades, Betsy Waltrip and Liz Pappaceno included sweet treats with their deliveries, and Mirtha Barzaga took surprise pumpkins to the Wards Creek Elementary School's SAC meeting!
Many thanks to Rype & Readi Elkton Farm for delivering the pumpkins to the Davidson office.