"Feeling gratitude and not expressing it is like wrapping a present and not giving it." William Arthur Ward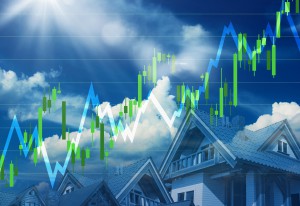 The October market stats compiled by the Northeast Florida Association of Realtors show our local real estate market rebounded quickly after Hurricane Irma. That is very good news, but many housing experts are predicting a wave of foreclosures in February due to the storms. It is difficult to collect insurance until contractors are lined up to make repairs and many homeowners are waiting months for construction companies to get to the work. Some homeowners may just walk away.
Pending sales for October jumped 20% over last October. We are up 5% year to date. Closed sales are up 6% over last October and 1% year to date.
Our median and average sales prices are up over 10%. Out of the country's 50 largest housing markets, 31 have returned to their levels during the last housing bubble (62 percent). Our market is getting closer to the peak pricing of 2005 and 2006. "As we compare today's market dynamics to those of a decade ago, it's important to remember rising prices didn't cause the housing crash," says realtor.com Chief Economist Danielle Hale. "It was rising prices stoked by subprime and low-documentation mortgages, as well as people looking for short-term gains – versus today's truer market vitality – that created the environment for the crash."
The new listings for October are up 27% over last October but only 0.5% year to date. We have 7,951 homes available for sale which is down 19% from last October. We have a 3.3 months supply of inventory which is down 23% from last October. Our inventory of available homes remains low and sellers reap the benefit of this lower supply.
The builders are continuing to add to our available inventory. The housing permits for the Jacksonville MSA are up 10% over last year. There were 7,519 single family permits year to date in 2017 compared to 6,860 year to date in 2016.
It is still a very good time to buy an investment property. An article in Credit.com says "Consumer demand for single-family rentals – either detached or townhomes – is developing faster than any other segment of the housing market, according to the Urban Institute. It's currently outpacing both single-family home purchases and apartment living." Landlords who own only one property comprise 45% of the market share. Davidson Realty could help you find the perfect property and Davidson Property Management would love to manage your investment property.
I would like to express my gratitude to everyone who has supported us and made our business continue to grow. Happy Thanksgiving!