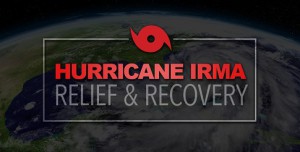 As we gear up for the 2nd Annual Davidson Cares Shooting for SAYS, we are excited to partner with St. Johns Housing Partnership on our Cooler & Cocktail raffle! The winner will be drawn at the event on Thursday, October 19, at Jacksonville Clay Target Sports.
St. Johns Housing Partnership's proceeds will help the organization aid with Hurricane Irma recovery; Davidson Cares' portion will go to help SAYS continue providing a safe, therapeutic home to boys suffering from abuse and severe neglect.
The raffle prize is valued at approximately $400. It includes an RTIC 45-quart rotomolded cooler, Cabela's canvas shooting bag, Jacksonville Clay Target Sports polo shirt, a various assortment of liquors and two RTIC tumblers. Tickets are on sale at www.DavidsonCares.com ($5 for one ticket, $20 for five tickets).
The event will also feature a charity silent auction to benefit St. Johns Housing Partnership, which will include sports memorabilia, golf passes and other prizes.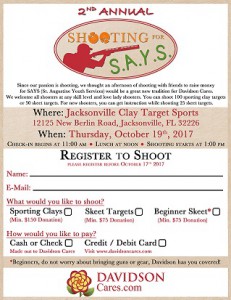 Shooting for SAYS Event Information
All event proceeds will also go to SAYS. Last year's event raised $30,000 for SAYS and participants enjoyed an afternoon of sport shooting and fun.
"I'd never shot a gun before. Hitting my first target was like catching my first wave or hitting my first flush golf shot. What a thrill—and I won a prize," said Andrew Colavito of Toll Brothers Luxury Homes. "The Davidson Family showed amazing hospitality. Sherry (Davidson) herself graciously taught me everything I now know about shooting, and it felt good to do it to benefit SAYS. I had a blast!"
Participants may shoot 100 sporting clays for minimum donation of $150, or 50 skeet targets for a minimum $75 donation. New shooters may receive instruction while shooting 25 skeet targets for minimum donation of $75.
Shooters at all skill levels are invited to participate individually or as a team. All shooters will receive an event T-shirt, lunch, shotgun shells and refreshments during the awards ceremony.
Event tickets are available online at www.DavidsonCares.com or via cash or check. Payment is accepted at any Davidson Realty office (100 East Town Place in World Golf Village or 1500 Beach Boulevard, Suite 215 in Jacksonville Beach).
Jacksonville Clay Target Sports is located at 12125 New Berlin Road in Jacksonville. For more information, visit www.DavidsonCares.com or call (904) 940-5000.