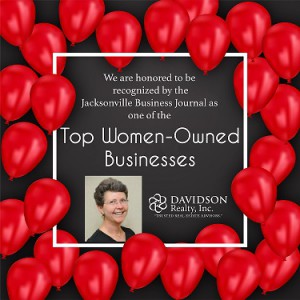 Good news times two! The Davidson Companies has been named as one of Northeast Florida's top women-owned businesses and top residential property managers. The rankings are part of Jacksonville Business Journal's annual Book of Lists.
The top women-owned businesses, of which Davidson Realty placed 19th, were ranked based on 2016 revenue. The leading residential property managers, of which Davidson Property Management placed 9th, were ranked by 2016 gross commissions.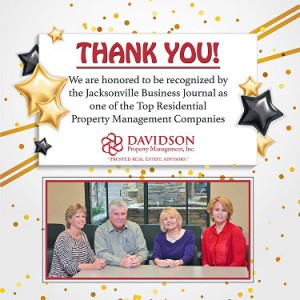 Davidson Realty and Davidson Property Management are sister companies under the Davidson Companies umbrella, which also includes Davidson Development, Davidson Advisory Services, Davidson Referral Network and Davidson Cares.
"Being honored among top businesses in both categories is always a thrill for us," said Sherry Davidson, President and Owner of Davidson Realty.
Sherry added, "Many thanks to our agents, property managers and customers for making this possible."