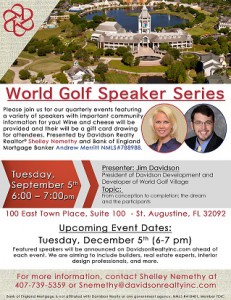 Davidson Realtor Shelley Nemethy's quarterly Speaker Series event is presenting another great event tomorrow night, September 5th, at 6 pm at Davidson's World Golf Village office. Jim Davidson, President of Davidson Development and Developer of World Golf Village, will be presenting on how the community came to be from conception to completion.
Realtor Shelley Nemethy and Bank of England Mortgage Banker Andrew Merritt continue to sponsor these free quarterly events, which feature different guest speakers and a range of interesting topics for the public. This one is particularly exciting to hear Jim speak, as he was the driving force behind the community's strategy, establishment and growth.
Davidson Development specializes in the planning, development, construction and marketing of large-scale, mixed-use real estate projects. It will be exciting to hear about the 30 year history of World Golf Village from Jim himself.
Shelley and Andrew be providing refreshments. Make sure to RSVP at http://bit.ly/2gzBAM0. Davidson's office is located at 100 East Town Place, St Augustine, 32092.
For more information, contact Shelley Nemethy at 407-739-5359 or Snemethy@davidsonrealtyinc.com.