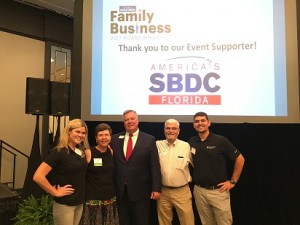 Davidson Realty President Sherry Davidson knows a thing or two about operating a family owned business. The 30-year industry veteran shared her insights as a featured panelist at Jacksonville Business Journal's Family Owned Business Power Breakfast on Tuesday at the Omni Jacksonville Hotel.
Sherry launched Davidson Realty in 1989 and has built it to become one of Northeast Florida's top real estate firms with more than 60 agents and two offices. The organization also includes Sherry's children, Peyton, Sam and Matt. Her husband Jim Davidson operates sister company Davidson Development.
Sherry and five other panelists spoke on balancing family and business needs, preparing for multi-generational family ownership, creativity in family member contributions, helpful resources and other time-tested lessons.