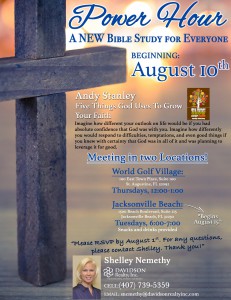 Our very own Shelley Nemethy and Pam Lareau will launch their third Bible study series at two Davidson Realty locations. Both are open to the public.
• The first study, hosted by Shelley, will kick off Thursday, August 10 at our World Golf Village office. This series will take place each Thursday from 12 to 1 p.m.
• The second study, hosted by Pam, will begin Tuesday, August 15 at our Jacksonville Beach office. This series is scheduled each Tuesday from 6 to 7 p.m.
Both studies will focus on Andy Stanley's 2009 book "Five Things God Uses to Grow Your Faith." Mr. Stanley is senior pastor at several Atlanta churches and author of more than 20 books.
"This study centers on faith and trust, the keys to any healthy relationship," said Shelley, who is also one of our top producing Realtors.
The World Golf Village office is located at 100 East Town Place in St. Augustine. Our Jacksonville Beach location is located at 1500 Beach Boulevard, Suite 215.
Participants are asked to register by Tuesday, August 1. For more information or to register, contact Shelley Nemethy at 407-739-5359 or Snemethy@davidsonrealtyinc.com.