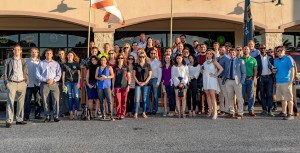 Davidson Realty's monthly Jax Beach Networking Event is moving to Southern Swells Brewing Co.! The Jax Beach Networking Group has really taken off and grown from 20 attendees per month to 70+! The next event is this Wednesday, June 21st beginning at 6:30 pm. Professionals from all industries are welcome to join in on the fun.
June's event sponsor is Void Magazine, who will be providing information on their upcoming events and giving out door prizes. Bank of England has signed on to be the networking event's monthly grub sponsor, providing food every month from different local restaurants. Another Davidson Realty preferred vendor, Landmark Title, is providing free beer/wine monthly for the first 62 attendees (between 6 and 6:30 pm). Happy Hour pricing will continue to be provided by Southern Swells ($4 Southern Swells beer and $1 off wine) until 10 pm.
Davidson is extremely excited to have local band Ramona Quimby perform at the event. Ramona Quimby is well known in Jacksonville, St. Augustine and the beaches. Their sound is a mix of soul, hip-hop, jazz and lounge music. They are expected to be a huge hit!
Southern Swells Brewing Co. is located at 1312 Beach Boulevard in Jacksonville Beach next to Bailey's Gym. Search "Jax Beach Networking Event" on Facebook for more information, call Peyton Davidson at (904) 940-5000 or email at pdavidson@davidsonrealtyinc.com.
Davidson Realty hosts the networking events on the third Wednesday of every month at 6:30 pm. Mark your calendars for July 19th and August 16th for more great networking, sponsors and music.
Davidson's Jacksonville Beach office is located at 1500 Beach Boulevard, suite 215. For more information about the office and local real estate, visit DRIJaxBeach.com.