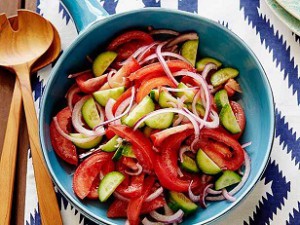 This recipe is one of my favorites that I picked up and expanded on from Cotton Country Cookbook. Hope you enjoy!
1 Tablespoon of Salt
1 Tablespoon of Worcestershire
1/2 Teaspoon Tabasco
1 Teaspoon Black Pepper
2 Teaspoon Paprika
2 Teaspoon Yellow Mustard
1 Cup Salad Dressing
1/2 Cup Red Wine Vinegar
Put marinade over rings of onions, green peppers and shredded cucumber. Put in refrigerator for a day. Serve in bowl with fresh tomatoes over top. Tomatoes should be in large diced pieces. Fresh, delicious and healthy!
Jim