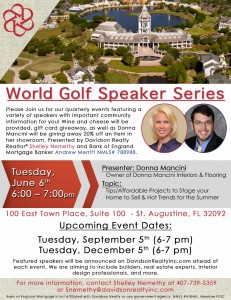 "Staged to Sell" is the topic for our upcoming World Golf Speaker Series presented by Davidson Realtor Shelley Nemethy and Bank of England Mortgage Banker Andrew Merritt! The event features interior design expert Donna Mancini, owner of Donna Mancini Interiors & Flooring. This event is for everyone, whether you are planning on selling your home or just looking for design tips!
Donna will be providing guidance and tips on staging a home to appeal to buyers, as well as new design trends for the summer! The event is located at Davidson Realty's office at the entrance to World Golf Village (100 East Town Place, 32092) on June 6th from 6 – 7 pm. Refreshments will be provided by Bank of England.
It's a seller's market right now in Northeast Florida and staging puts sellers in a great position to stand out from the competition. Donna is very experienced in staging homes and knows what buyers want to see to feel welcome in a space. She's always on top of the newest home trends!
*BONUS FOR ATTENDEES* – Donna is offering 20% off furniture and accessories in her showroom for 30 days after the event! The showroom is located in Ponte Vedra at 141 Hilden Rd, Unit 202, near US1.
To learn more, give Realtor Shelley Nemethy a call at 407-739-5359 or Snemethy@davidsonrealtyinc.com. We look forward to seeing you at the event on June 6th!