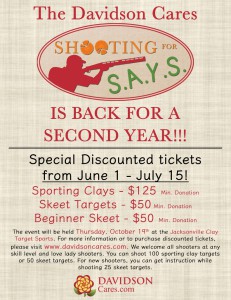 We are excited to announce the 2nd Annual Shooting For SAYS event coming Thursday, October 19, at Jacksonville Clay Target Sports! To begin ramping up to the big event, we are introducing special early bird pricing for participants.
Anyone who signs up between June 1 and July 15 will receive discounted prices on sporting clays (set of 100 for $125 instead of $150) and skeet targets (set of 50 for $50 instead of $75). New shooters may receive instruction while shooting 25 skeet targets for $50 (instead of $75).
All event proceeds will go to SAYS (St. Augustine Youth Services), which provides a safe, therapeutic environment for boys who have suffered from severe abuse and neglect. The 2016 Shooting For SAYS event raised $30,000 for the organization.
"This is our third year supporting SAYS through Davidson Cares fundraisers and we would love to make this the most successful yet," said Davidson Realty President Sherry Davidson. "The folks at SAYS work tirelessly for those boys and we are glad to champion their efforts."
Tickets are available online at www.DavidsonCares.com or via cash or check. Payment is accepted at any Davidson Realty office (100 East Town Place in World Golf Village or 1500 Beach Boulevard, Suite 215 in Jacksonville Beach).
Shooters at all skill levels are invited to participate individually or as a team. All shooters will receive an event T-shirt, lunch, shotgun shells and refreshments during the awards ceremony.
Jacksonville Clay Target Sports is located at 12125 New Berlin Road in Jacksonville.
Since 2012, Davidson Cares has worked to help local children by supporting area schools and youth-based programs. For more information, visit www.DavidsonCares.com or call (904) 940-5000.
A special call for sponsors!
At Davidson Cares, we love our event sponsors and we are excited to invite businesses and individuals to support SAYS by purchasing a sponsorship for Shooting For SAYS.
For information and a detailed list of sponsorship benefits, contact Peyton Davidson, Vice President of Marketing and Social Media, at pdavidson@davidsonrealtyinc.com or (904) 940-5000.