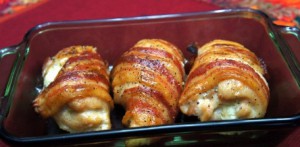 4 Boneless/Skinless Chicken Breast
Kerrygold Dubliner Irish Cheese
Package of Fresh Basil
8 pieces of thick of Bacon
Wash and dry each chicken breast , then slice a pocket in each breast. Stuff each Breast with two fresh basil leaves and a slice of Dubliner. Wrap each Breast in two pieces of bacon and secure with a toothpick. Preheat oven to 375′ . Place all breasts in a baking pan sprayed with Pam or rubbed with vegetable oil and bake for 20-30 minutes depending on thickness of the breasts. Bacon should be cooked crisp when done.
Serve with sautéed vegetables and salad. Excellent!
Jim