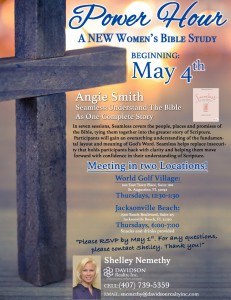 Spread the word! Davidson Realty agents Shelley Nemethy and Pam Lareau will host a new Power Hour Bible study beginning Thursday, May 4, at Davidson Realty's locations in World Golf Village and Jacksonville Beach. The program is open to the public.
Shelley will host the World Golf Village session each Thursday from 12:30 to 1:30 p.m. at 100 East Town Place in St. Augustine. Pam hosts the Jacksonville Beach session each Thursday from 6 to 7 p.m. at 1500 Beach Boulevard, Suite 215.
"Each Power Hour has been a big success. Since it's something you can do during your lunch hour or just after work, participants find it energizes them for the rest of their day," said Shelley, who is also one of Davidson's top producing Realtors.
The 7-week study is based on Seamless, a book written by Biblical teacher and author Angie Smith.
Shelley said, "The study focuses on understanding the Bible as a whole and Angie has created it to be versatile for everyone, whether you grew up reading the Bible or you're just getting started."
The study book for the program, which is available for $12.99 plus tax, can be purchased online or by registering with Shelley.
For more information or to register, contact Shelley at 407-739-5359 or Snemethy@davidsonrealtyinc.com.