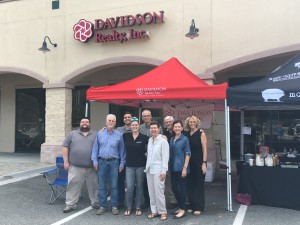 We commemorated the one-year anniversary of our Jacksonville Beach office launch with a barbeque-and-brew celebration on Friday, March 10. Davidson's leadership team and many of our agents and business partners gathered for the event, which was catered by MOJO Kitchen, BBQ Pit & Blues Bar, and Engine 15 Brewing Company.
"We are so proud of our beach team for the great job they have done since we opened this office," said Sherry Davidson, President of Davidson Realty. "We are looking forward to another fantastic year ahead."
The Jacksonville Beach office is located at 1500 Beach Boulevard, suite 215. For more information about the office and local real estate, visit DRIJaxBeach.com .
Thanks to the agents and business partners who joined us for the celebration!