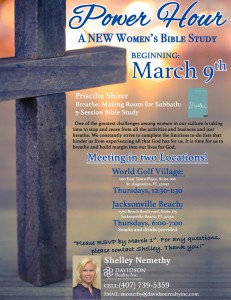 Davidson agent Shelley Nemethy will host a "Power Hour" Bible study beginning Thursday, March 9, at Davidson Realty's locations in World Golf Village and Jacksonville Beach. The program is open to the public.
Shelley will host the first Power Hour on Thursdays from 12:30 to 1:30 p.m. at 100 East Town Place in World Golf Village. A second Power Hour will be held on Thursdays from 6 to 7 p.m. at 1500 Beach Boulvard, Suite 215, in Jacksonville Beach.
The Bible study is based on Priscilla Shirer's program "Breathe: Making Room for Sabbath."
"This study will teach us how to steer clear of the stress-filled existence that we live with and accept every day," said Shelley. "It will be a journey through the scriptures that will equip us to feel the freedom that God always intended us to experience."
Each session includes a group discussion and a video lesson taught by Priscilla Shirer. The study book for the program, which is available for $9.99 plus tax, can be purchased online or by registering with Shelley.
For more information or to register, contact Shelley at 407-739-5359 or Snemethy@davidsonrealtyinc.com.