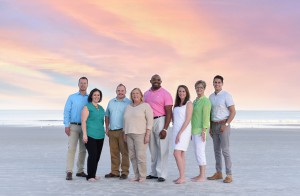 During the past year, Davidson Realty has expanded its locations and agent base, and now, the leading real estate firm is expanding its reach with a new designated beaches team. The agents specialize in homes throughout the area, including the beaches, Intracoastal Waterway area and Jacksonville's Southside.
The team is based in Davidson's new Jacksonville Beach location (1500 Beach Blvd., Ste. 215). Members include experienced Davidson agents Amanda Houser, Justin Hahn, Matt Roberts, Ethel Henry, Caitlyn Hawkins, Brian Martin, Franco D'Orazio and Jennifer Todd.
"Collectively, the group has extensive knowledge of their market and an exceptional service record," said Davidson Realty President Sherry Davidson. "Individually, their specialties cover all the bases; this is truly a dynamic group of agents."
The team's website DRIJaxBeach.com includes comprehensive listings of available properties and an advice blog for buyers and sellers.
Get to know the new team by visiting DRIJaxBeach.com or calling (904) 940-5000.