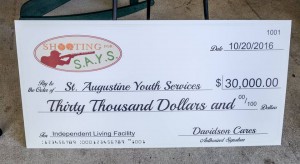 On Thursday, October 20, we hosted our inaugural Shooting For SAYS event, raising $30,000 for SAYS (St. Augustine Youth Services)! SAYS works to provide a safe, therapeutic environment for boys who have suffered from severe abuse and neglect.
Nearly 90 shooters participated in the event. Team Bozard Ford Lincoln won first place in the sporting clay category, Jonathan Henrici with The Hutson Companies team finished with the top score in individual sporting clays, and the most improved skeet shooter award went to Andrew Colavito with Toll Brothers.
"We were thrilled to see familiar faces as well as new friends come out to support SAYS and enjoy a beautiful day of sport shooting," said Sherry Davidson, President of Davidson Realty. "Our thanks go out to each of the participants and sponsors for helping to make this event a success."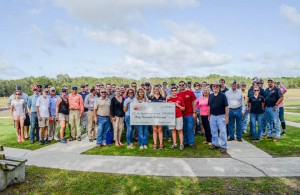 The event's $2,500-level sponsors included Providence Homes, Riverside Homes, Gate Foundation, Vallencourt Construction Company, Dream Finders Homes, Landon Homes, The Hutson Companies and SEDA Homes.
Sponsors at the $1,000 level included Landmark Title, Watson Civil Construction, Shearwater, Bank of England, PDQ, Matthews Design Group, Ellis & Associates, Gulfstream Design Group, MasterCraft Builder Group and Bozard Ford Lincoln.
Since 2012, Davidson Cares has worked to help local children by supporting area schools and youth-based programs. For more information, visit www.DavidsonCares.com.