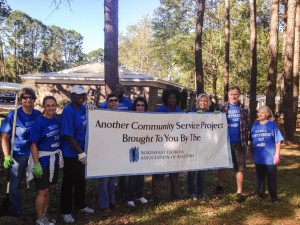 Our thanks to the wonderful group of Davidson agents who gathered on Saturday, October 22, to mark the 25th annual Make A Difference Day by volunteering with St. Johns Housing Partnership! Davidson Realty also donated $1,000 to SJHP.
Liz Pappaceno, Terri Otterman, Anita McNeill, Franco D'Orazio, Margherite Myers, Patricia Lee, Shirley Barber, Shelley Nemethy and her husband Tim, all joined Davidson Realty President Sherry Davidson to lend a hand with hurricane clean-up for nearly 80 low-income seniors in apartments owned by SJHP.
Since 1998, SJHP has participated in Make A Difference Day, the nation's largest day of volunteering.
"A world of thanks goes out to our agents who gave up a beautiful Saturday to help," said Sherry. "We truly have the most generous agents."