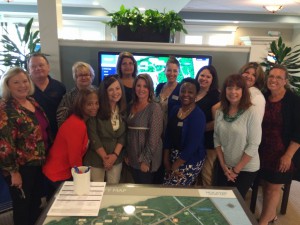 Congratulations to our 14 newest Certified Nocatee Agents, including Jennifer Todd, Jock Ochiltree, Leah Ochiltree, Liz Pappaceno, Erin Mount, Amy Anderson, Colleen Roark, Michelle Gonzalez, Leslie Highsmith, Lynn Whitley, Christine Sullivan, Maxine Levy, Rema Shaban and Don Gibson!
The 14 agents recently earned the certification from the Nocatee community, and now have access to exclusive meetings with Nocatee developers and site agents to stay informed on new community developments.
That makes 17 Davidson agents and counting! Joanne Samuelson, Loreal Greathouse and Shelley Nemethy are also Nocatee Certified Agents.
Says Davidson Realty President Sherry Davidson, "The Nocatee certification really benefits the buyer because these agents have the newest real estate knowledge from inside the expanding community. For buyers interested in the Nocatee area, Davidson is a great place to start their search."
For more information, contact Davidson Realty's Nocatee Certified Agents at (904) 940-5000 or visit www.DavidsonRealtyInc.com.