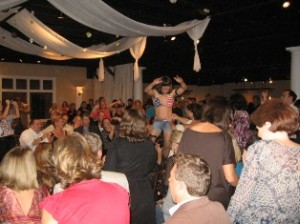 In a pageant where normally estrogen would abound, testosterone took to the stage in a hilariously funny and entertaining fashion in the Nation's oldest City.  The White Room, located on St. Augustine's bayfront was the elaborate venue chosen to host the Womanless Beauty Pageant put on by the Young Professionals Organization of St. Augustine. 
This was the sixth year for the male participant beauty contest and over $25,000 was raised for various charities by the nine contestants.  Bravely flaunting their stuff in evening dress, swimsuit wear and followed by a talent competition, the contestants ranged from a St. Augustine attorney, banking executive, firefighter as well as a World Golf Village dentist.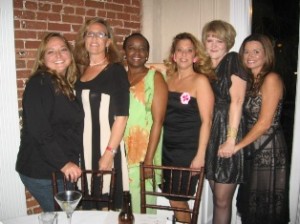 Amidst laughter from the audience, who anxiously tried to vie for position near the stage to give them money, the contestants entertained flawlessly.  Representing "The Arc of the St. Johns," beauty contestant Bob Bergstrom did his own personal Paula Dean imitation, complete with a "hey ya'll" apron, by filling a donut with tons of butter and whipped cream.  There was dancing, singing and acrobatics galore.  But, ultimately the St. Augustine Vice President of Business Development of the Wind Capital Group took the crown.
St. Augustine's lovely charm and beautiful fall climate provided a great backdrop to this wonderful event benefitting charities such as the St. Francis House, St. Augustine Youth Services, Big Brothers and Sisters, Firefighters for Families and Limelight Theatre KidsfACTory.  A great time was had by all and it just goes to show you that truly – "beauty is in the eye of the beholder."